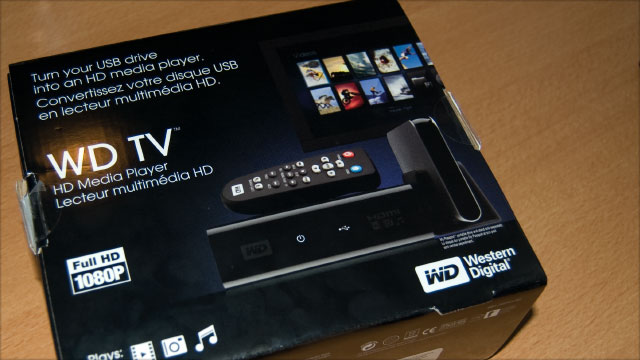 Western Digital TV may be one of the best, and cheapest alternatives to getting your anime or digital media onto your TV.  For $99, it's cheaper than Apple TV, and comes with about as many features and decoders.  It's pretty much plug-and-play, and beats watching your import anime on a little 19″ LCD monitor.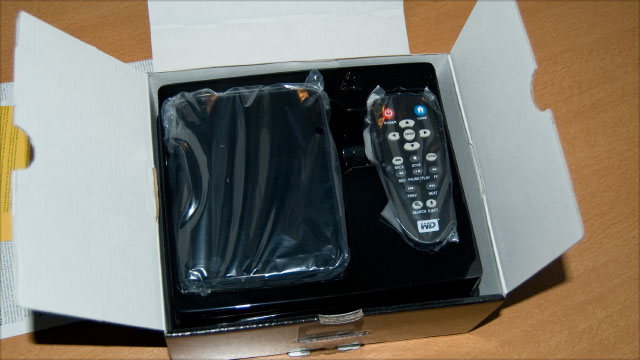 In the box, you get the unit itself, a remote and video cables to hook up the device to your TV.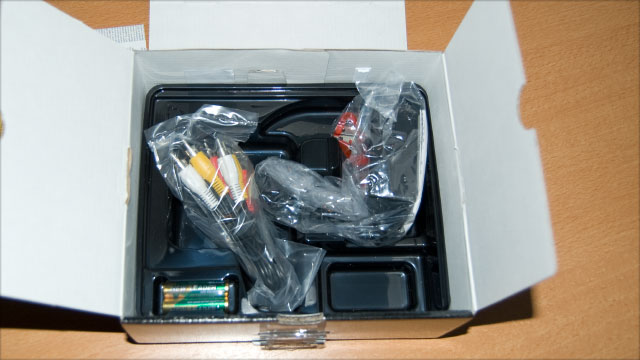 You also get a CD which comes with some useless video encoding software, and a users guide in PDF format.  The video cable is pretty much useless as well. It's about two feet long, which for most people just isn't going to be nearly long enough. I had to go out and get an 8ft cable to connect the unit from my A/V cabinet to the back of my TV.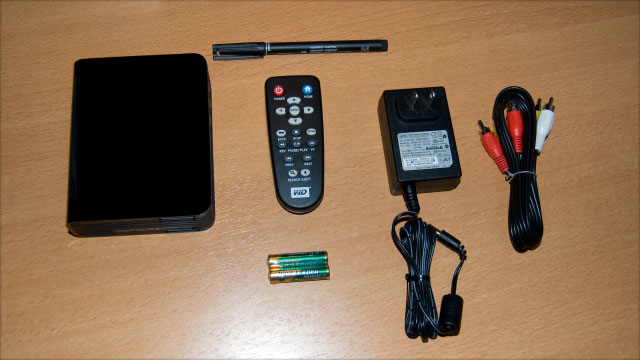 I placed a marker pen in the photo just to give you an idea of scale. This device is tiny.  You could put it in your pocket if need be.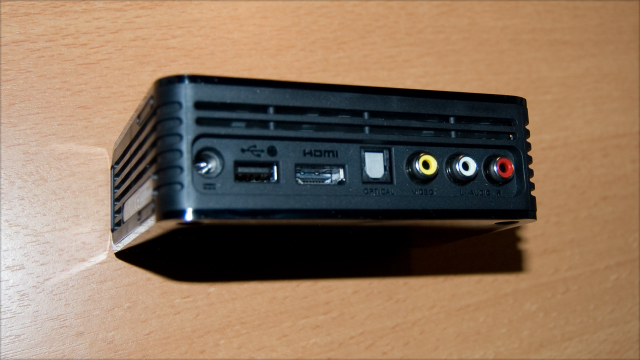 As you can see from the back of the unit, you have a choice of HDMI, or RCA connections. The box only ships with the super short RCA cables, so if you plan on using HDMI or optical audio, you'll have to purchase those separately. The USB port and power port is also located in the back.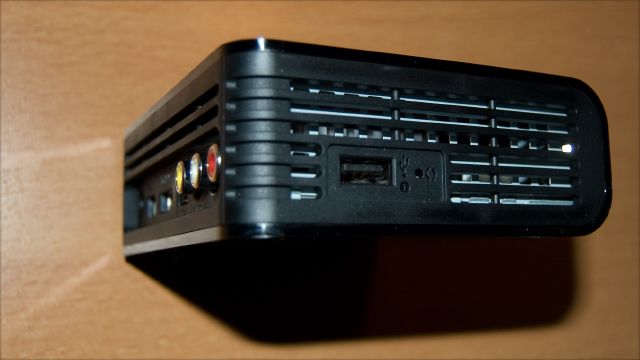 On the side of the unit, you'll also find another USB port.  The idea is to have all your media stored on an external drive, connect it to the WD TV, then have the WD TV automatically index all the media files and be the main decoder for playback to your TV.  I used a WD Passport drive, and so far I'm pretty happy with the unit.
On the box it lists a slew of playable formats: Video -MPEG1/2/4, WMV9, AVI (MPEG4, Xvid, AVC), H.264, MKV, MOV (MPEG4, H.264), MTS, TP, TS.  It also lists a beefy amount of audio decoders: MP3, WMA, OGG, WAV/PCM/LPCM, AAC, FLAC, Dolby Digital, AIF/AIFF, MKA.  What it doesn't make clear though, is that in some instances the unit will not decode MKV and OGG at the same time.  So you could end up with some videos that don't have audio playback.
One annoyance is it doesn't seem to support VORBIS yet.  There's been talk about it but since the latest firmware update, (1.02.07) VORBIS still does not work.  There's also currently no support for iTunes .M4V format.  Unless you can recode .M4V into one of the readable video and audio formats for the WD TV,  you're out of luck.  That too is a bit annoying as all my iTunes videos sit on my computer.
Oh, and here's another thing to watch out for.  You absolutely don't want to lose the remote. There's no other way to control the WD TV. There are no buttons of any kind on the device itself.  Everything, and I mean everything is controlled by the tiny remote they give you.  Lose it, and you've got a little box that does nothing.
Another slight annoyance is that the WD TV does not power-off the external drive when you turn it off.  The drive seems to continue to spin for a while.  I think my passport just eventually goes into a sleep mode, but the power light stays on and is still a bit warm to the touch.  In fact, the WD TV stays warm as well, so there's still a good amount of power trickling through it even when it's supposed to be off.  The heating does concern me, but as it seems power is always flowing through the USB ports, I may find a laptop cooling tray to sit underneath the WD TV and external drive.  I think that should alleviate some of my thermal concerns.
So, how effective is the device in playing video?  It's really effective.  In fact, it's currently my favorite A/V device.  Having all your digital media, video, audio, photos available on your main set at a touch of a button is pretty nice.  I've been looking for a way to get my media onto my main screen for a while.  There were options available with some DVD players that had a USB port to play video from.  But it seems, they only understood USB flash drives and if you connected an external drive to the DVD player, it wouldn't be able to read it.  So in the end, that wasn't going to be a good solution.  Using Windows media center seemed to be a waste.  I didn't want to dedicate a whole computer to running media on my TV.  Plus, computers make really crappy A/V equipment.  The WD TV just pops on like a digital device should, and in seconds you're scrolling through your media to decide what you want to play.
I really like the WD TV.  Sure, it's got some quirks and may annoy some of the less technically savvy, but it's well worth the $99 price tag.  To finally be able to consolidate all my digital media, and have it readily accessible to my main TV is just so convenient.  At times, it feels like you're running your own broadcasting station as the WD TV will understand playlists.  The menus aren't too fancy, but they're responsive and easy to navigate.  If you've got a lot of anime and you want to watch it on your 45″+ flatscreen, you need to get one of these.  It's well worth it.